Walter Kraus 3. Juli 2012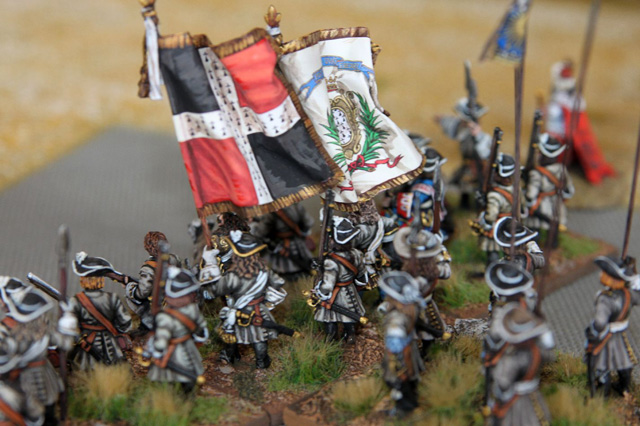 Die 2. Austrian Salute ist vorbei, und es war wieder einmal ein gelungener Tag. Das Ausweichquartier beim Bahnhofswirt in Oberndorf entpuppte sich als heller renovierter Saal und das Essen war mehr als gut, die Portionen auch sehr reichlich (die Preise… aber gut, gehobene Küche).
Die Spieltische und ihre Hosts (in alphabetischer Reihenfolge):
1. Bushido (28mm Mystical Japan) – Ace und Gnorkh
2. Impetus – Wars of the Roses (28mm) – Greymouse und Virago
3. Operation Squad (28mm) – Justizius, Lexxman und Medicus
4. Napoleon – Wagram 1809 (28mm) – Khornosaurus und Vater
5. Hail Caesar – Piktensturm 4.Jhdt. (28mm) – Tom Mang und Huscarl
6. Beneath the Lily Banners – Embrun 1692 (28mm) – Tom Mang und El Cid
7. Flames of War – Anzio 1944 (15mm) – US: Captain Erwin, Gefr. Wolfgang und TheEverlast // Deutsche: Zauberlehrling und Zerocool
8. Flames of War – Vietnam 1965 (15mm) – Angel-the-Fang und teager40K
Weitere Gäste und Mitspieler:
FortheEmperor, Stonewall, Lord Skrolk, Lord Zerydal, Astatres, Fabius, Nik Green aus London u.v.a.m.
Danke an alle, die da waren, gehosted, gespielt und gute Laune verbreitet haben.
CU bei der 3. Austrian Salute 2013
>> Zur Diskussion / Nachbetrachtung in der Festung
>> Bilder von The-Everl@st
>> Bilder von virago
Weitere Bilder gibt es von unserem Huscarl: