admin 19. Oktober 2014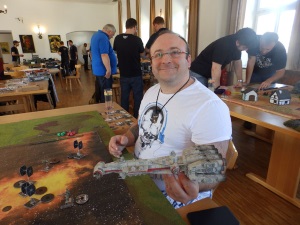 Der 1. Comitatus Gaming Day war ein voller Erfolg! Nachfolgend der Kurzbericht von Muswetyl.
Tische:
SAGA (Lord Skrolk)
X-Wing (Lord Ragnar)
FOW – Nam (teager40k, Angel-the-Fang)
Firestorm Armada (Hahnc) + Rooster Models
Zombicide (Element)
Heroes of Normandie (Muswetyl, Elric)
Bolt Action Special (Overlord-Alex)
Battles of Napoleon (FortheEmperor, Stonewall)
WHF (Surtur, Django)
Infinity (Zscharn, Brazzo, Göttfert)
Battlefleet Gothic (Schwarzmaler, Tom)
40K Apo (EPP, Akahito, Astatres, Janko)
Deadzone (VanSan, DaFlo)
Besucher:
Mannul, Adi, Khornosaurus, Songonso, ThomasH, Cid, Dawak, MThomas, … und dann hatte ich keinen Überblick mehr, es war ein stetiges Kommen und Gehen.
Platzierungen für die Bemalwertung:
Großmodell: Django (Nurgle-Dämon)
Einheit: Severian (Flusstrolle)
Einzel: EPP (Quartermaster-Todeskorps)
Youngsters: Nicolai Bauer (Elben-Helden)
Die Fotos stammen von Elric, wir lassen die Bilder für sich sprechen.
>> Zum Turnier / Nachbericht in der Festung