Walter Kraus 16. Januar 2020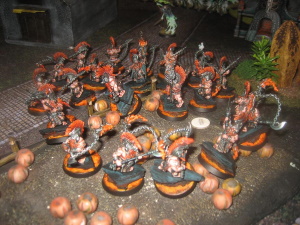 Das erste Turnier beim Peter (Wirt) ist geschlagen, unser erstes AoS-Doubles-Turnier. Stimmung war entspannt und sehr angenehm, und ich hatte – wenn auch ohne gröberen Erfolg – drei sehr unterhaltsame und kurzweilige Partien. Danke an meine/unsere Gegen-Teams: Robot Unicorn Attack, Doom Patrol und Jinxies and Pinkies.
Gratulation an alle Teilnehmer und alle Gewinner, vor allem an die Sieger aus Tirol – das komplette Ergebnis seht ihr unter www.tabletopturniere.de.
Danke an alle Teilnehmer, an meine Orga (Chiefmaster1) und an alle Helfer bei Auf- und Abbau. Ich hab mich auch über den Besuch der Schlachtenbummler aus Salzburg (Alexis Sorbas und Django) sehr gefreut. Das Essen war echt fein, nur zufriedene Gesichter (auch beim Wirt). Einige Änderungen werden wir sicher vornehmen, und ich erwarte mir auch sinnvolle Kritiken/Anregungen, aber einem weiteren AoS-Doubles im Herbst steht definitiv nichts entgegen.
Kurze Review:
Arthag (Ogor Mawtribes) und moi (Gloomspite Gitz) hatten drei echt fordernde, aber super spaßige und faire Spiele am gestrigen Turniertag.
Spiel 1 gegen Robot Unicorn Attack: tekniker (Legion of Nagash) und Melifaux (Sylvaneth) – Mission "Vollständige Eroberung"
Gleich mal der erste Schock, als sie ihre Armeen aufgestellt haben: viel Wald und große Bäume, und berittene Skelette, vier Morghast Archai und der fliegende Thron. Na bum. Die Sylvaneth haben taktiert, und die Untoten frontal angegriffen, und zwar… MICH. Doch mein Pilz-Schamane hatte eine einfache Taktik: mit allen Fanatics und beiden Riesen voll draufhauen. Arthags Vielfraße haben auch kräftig mitgemischt und ratz-fatz war die Legion auf eine Handvoll Wölfe geschrumpft, nur einer der Riesen war Meier. Doch die Sylvaneth haben einen Wald nach dem anderen platziert und durch diese herumhüpfend in der letzten Spielrunde viele viele Missionsziele erobert und so das Spiel klar gewonnen.
Sehr angenehmes Spieler-Duo, gerne wieder.
Spiel 2 gegen Doom Patrol: Chiefmaster1 (Stormcast) und Ra-GF (Ossiarch Bonereapers) – Mission "Kampf um den Pass"
Der nächste Schock, weil eben… Stormcast mit drei Schleudern und Bonereapers im Bataillon und noch eine Schleuder, und das auf Distanz. Oidaaaaaaa. Also: Angriff. Angriff? Gitze? Wenn's nicht läuft, läuft's nicht – trotzdem full-out und gib ihm. Es kam zur Materialschlacht ums Zentrum und soooo schlecht haben wir eigentlich nicht abgeschnitten. Zitat Chiefmaster1: "Is foi zaaach gegen eich." Trotzdem war am Ende gegen die geballte Schusskraft und Masse nichts zu holen, und wieder ein Spiel klar verloren.
Auch hier wieder: angenehme Spieler, gerne wieder, viel Spaß gehabt.
Spiel 3 gegen Jinxies und Pinkies: Jiinxi (Daughters of Khaine) und Lord Ragnar (Hedonites of Slaanesh) – Mission "Verbrannte Erde"
Zwei aus dem Comitatus, also bekannte Gegner. Also ein Freundschaftsspiel? Mitnichten, voll auf die Zwölf. Jiinxi und ich haben uns auf einem Flügel beharkt und gerauft, wobei ich den besseren Teil der Rauferei hatte, Arthag und Lord Ragnar auf der anderen Flanke, und Arthag musste gegen die Keeper. Einen hat er weggeputzt, aber dann war auch Ende Gelände. Zwei harte Gegenarmeen, zwei sehr angenehme Gegner, wobei sich der Spaß gegen die Zipfl-Brigade der Hedonites meistens in (sehr engen) Grenzen bewegt. Trotzdem gerne wieder (vielleicht halt nicht so oft).
Ja, Age of Sigmar macht Spaß, wenn man sich und das Turnier als solches nicht zu bierernst nimmt, und eben aus Spaß an der Freud spielt. Eine Neuauflage des Doubles im Herbst ist so gut wie sicher.