Walter Kraus 11. März 2020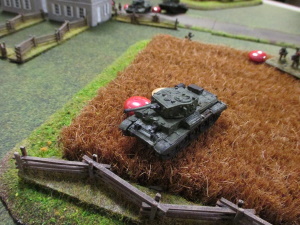 Start der Kampagne mit zwei Spielen und einigen Zuschauern, die das live miterleben wollten. Ein ausführlicher Bildbericht von der deutschen Wochenschau.
1.) Astatres (D) vs. MadCadian (US)
Die Panzerdivision 2 gegen 2nd Armored Division – stylisch.
Auftrag für beide war das Erkunden des Geländes rund um das (zerstörte) Dörfchen Russy an den Ausläufern der Bocage, mit Befehlszusätzen. Es war ein zähes Gefecht, in welchem sich beide aber auch gar nichts schenkten. Staff Sergeant Barns' Sherman wurde gleich zu Beginn lahmgelegt, erledigte von seiner Position aus aber noch zwei deutsche Panzer IV. Da es der Befehl der Deutschen verlangte, entbrannte ein extrem heftiger Kampf um die Kreuzung im Nirgendwo, und die Amerikaner hielten voll dagegen, obwohl ihre Befehle ein wenig defensiver gestaltet waren (dürfte auch am Hangover von Barns und Jenkins gelegen sein).
Nach fünf Runden brachen die Deutschen aufgrund BR und mussten einige rauchende Panzer-Wracks zurücklassen. Die Amerikaner konnten ihre ramponierten Tanks zurück zum Bataillonsdepot schleppen. Aufgrund des Sieges gab es keine disziplinären Ahndungen, lediglich ein dreitägiges Alkoholverbot für die US-Offiziere.
2.) Ic3m4n (D) vs. Madix (Br)
Fallschirm-Jäger-Regiment 6 gegen die 6th Airborne – auch voll stylisch.
Auftrag für beide war das Sichern der Mairie (Bürgermeisterhaus) des Dorfes Beaumont, ein Zielpunkt für Fallschirmjäger-Absprünge. Sonderauftrag für die Deutschen: Schützen und Absichern des Teams der deutschen Wochenschau, welche Bilder von der Front bzw. vom großen Sieg schießen sollte.
Die Briten hatten der Vorteil der Aufstellungszone und sicherten sich die Mairie relativ früh, hielten sie auch bis zum Schluss, trotz schwerer Verluste an Material und auch Mann. Das Wochenschau-Team (gespielt vom Spielleiter) war oft zu übereifrig und musste immer wieder von Dr. Heydte zurückgepfiffen werden: Befehle, die eventuell an anderer Stelle nötiger gewesen wären. Die britischen Paras erledigten dann auch mittels HMG den Kamerawagen und zwei Kameraleute, Heinz Grothe überlebte unverletzt und motiviert (Beyond the call of duty gezogen und erwürfelt). Quartermaster und Staff Sergeant der Briten wurden zwar angeschossen, überlebten jedoch leicht verletzt.
Nach Einbruch der Dunkelheit mussten die Deutschen den Angriff abbrechen, es blieb bei einem Unentschieden für beide Seiten, sämtliche Panzerleichen konnten erfolgreich geborgen werden.
Das aus der Schlachtlinie geflohene AT-Team wurde degradiert (Veteran zu Regular).