Walter Kraus 17. März 2020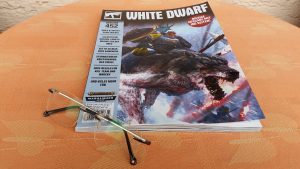 Früher sind die Neuigkeiten und Nachrichten aus der Ferne auf den Plätzen der Dörfer mittels Trommelwirbel angekündigt worden. Nachdem wir zur Zeit hobbymäßig kaum eine andere Möglichkeit haben als über das WWW und die Foren, möchte ich diese alte Tradition aufgreifen und euch hier, wie einer der alten Trommler, Neuigkeiten aus dem Hobbybereich präsentieren. Ich nenne diese Kolumne "Distant Drums", weil es ja nur ein Signal aus der Ferne an euch alle sein kann.
Heute möchte ich euch den neuen White Dwarf vorstellen, die Nummer 452 – Ausgabe April 2020, der mir vor wenigen Minuten per Post ins Haus geflattert wurde.
Es vieles zu sehen und lesen:
Index Astartes: Space Wolves
Galaktische Waaagh-Gebiete: Mekwelten der Orks
Age of Sigmar: Neue Kampagne "Land der toten Helden" – Hallost
Sturmgewölbe-Kriegsherren: Das Finale
Neue Regeln für Kill Team und Warcry
und Squigapalooza (mein Favorit)
Wieder einmal eine riesige Ausgabe mit 160 Seiten! Also echt viel fürs Geld. Man kann den White Dwarf mögen oder nicht, aber er bietet viel, viel für (fast) jedes System und alles bunt (und in Farbe). Ich lese (und sammle) ihn nunmehr seit circa 1990, und 95 % der Inhalte machen mir eigentlich immer Spaß an der Freud'.
Ich greife mal die Highlights heraus:
Index Astartes beschäftigt sich in dieser Ausgabe mit… klaro, Space Wolves. Da gibt es Storys, eine neues Szenario (Hölle des Krieges – Standhalten), Bemaltipps, und Umbauten / Armeevorstellung. Eine runde Sache, und für Wolfsfans Pflicht. Außerdem:
Mekwelten der Orks: viel Umbautipps und Gerödel, Bildmaterial vom Feinsten
Kill Team-Regeln: Rätselhafte Gefahr – der Archivar (ein Zoat)
Klauen des Imperators: Präsentation einer Adeptus Custodes / Sisters of Silence Armee von Jason Lee, also ehrlich, der Wahnsinn.
Dann die neue AoS-Kampagne: Hallost, das Land der toten Helden. Es geht nach Shysh und gegen die Geister. Wow, alleine die Bilder machen Lust auf eine derartige Armee. Da hat jemand (Jervis Johnson) viel Arbeit hineingesteckt.
Sehr gut gefällt mir auch das Sturmgewölbe mit den vier Kriegsherren, denn hier werden vier feine Armeen vorgestellt: Stormcast Eternals, Maggotkin-Legion, Idoneth Deepkin + Sylvaneth und die Squiggokalypse. Plus Mega-Spielbericht, viele Bilder und extrem viele gute Anregungen für die eigenen Armeen, sofern man eben eine der vier spielt (wie ich).
Dann geht's weiter zu Warcry mit "Herr der Gruben", die Spyre Tyrants. Wird bei uns im Comitatus viel und gern gespielt, daher: super Sache. Die Black Fortress bringt uns einen Artikel über Xenos-Intelligenz und Adeptis Titanicus den Rachefeldzug, auch wieder mit neuen Regeln (Ebene des Feuers und Durchbruch). Nach der Black Library-Ecke mit der Fortsetzung der Erzählung "Feuer des Glaubens" kommt dann am Ende des White Dwarf mein persönliches Highlight: Squigapalooza! – eine neue Bataillonsschriftrolle und vier Truppenschriftrollen, alles speziell auf eine Squig-Lawine zugeschnitten. Haben muss, machen muss!
Fazit: schöne Sache Harry, schöne Sache!
See you, same time same station (wie es in einem Radio-Klassiker aus den 80er Jahren so schön geheißen hat).