Walter Kraus 11. Mai 2020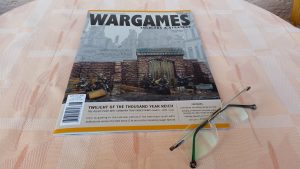 Heute gibt es wieder etwas für die Historical Gamer, ich möchte euch nämlich das aktuelle Wargames, Soldiers & Strategy präsentieren, die Nummer 108 – Ausgabe June/July 2020. Und nachdem Wargames Illustrated Covid-bedingt mindestens bis Juli pausiert, ist es eines der wenigen Magazine, das uns derzeit mit News zum historischen Wargame versorgt. Praise the Lord!
Diese Ausgabe hat als Thema: Twilight of the Thousand Year Reich – no na, zu Kriegsende.
Was bietet uns das Magazin diesmal an Artikeln:
This Gaming Life: Wargaming with the Lurgy (über Wargaming in Zeiten des Covid, wie immer sehr pointiert geschrieben)
Blisters and Peaches: Franzosen gegen Briten 1813 in Spanien, mit Adaptionen für Black Powder, Sharp Practice und Chosen Men (im Hinblick auf die für Herbst angekündigten Spanien-Mini-Neuheiten…)
Crossover Ancients: Ancient Greek Armies, d.h. von Makedoniern bis Pontic. Was kann man wo auch noch einsetzen? Sehr clever, ganz meine Ansicht, könnte man die 15mm Makedonier wieder mal auspacken.
Tuxedo Junction: American Civil War Railroad Szenario, fesches Skirmish für beide Parteien
The Battle of Aljubarrota 1385: Joao I. von Portugal gegen Juan I. von Spanien. Mal ganz was anderes, parallel zum Hundertjährigen Krieg.
Coup d'Oeil in Wargaming: Wie erwischt man seinen Gegner mit einem "Crushing Blow" auf dem falschen Fuß?
Götterdämmerung: The Fall of Hitler's Thousand Year Reich
Treachery at Troisdorf: März 1945 nahe Remagen
The Road to Starpel: Volkssturm gegen die Rote Armee
A Spoonful of Sugar: die Aktion an der Vossberg Zuckerfabrik 15.4.1945 (alle drei Szenarien sind echt gut gemacht und mit eigentlich jedem Regelwerk nachspielbar)
Collecting a Late WWII German Force: mit Hersteller-Angaben von 28mm bis runter zu 6mm
Painting a Late War German Vignette
The Irregular: There's an Article in that! – warum schreibe ich für andere… (Jawoll!)
How to paint Spanish Tercios in 28mm
Dandied up Dark Ages: "aufbrezeln" von Dark Age-Gebäuden (solcherlei liegt noch im Shop und wartet… auf euch)
Let's Play a Victory at Sea (leider erscheint das Spiel Corona-bedingt erst im Juni, aber wir bereiten die Promo-Box schon mal vor)
Des Weiteren – wie immer – ausgiebig Vorstellungen von neuen Büchern und Miniaturen, wie z.B. Battlegroup Northag, Oathmark, Muskets & Tomahawks II und Campaign Stalingrad (gerade erst eingetroffen). Natürlich auch etwas Werbung: FireForge zeigt Bilder der neuen Byzantiner (Koursores und Horse Archers) und Wargames Atlantic seine Produktplatette (schöne Sachen dabei, wie Afghan Warriors 1870 oder Dark Age Irish).
Schönes Magazin, geniale motivierende Berichte und Bilder, schöner Lesestoff fürs Wochenende (oder für wann auch immer).