Walter Kraus 26. Juli 2020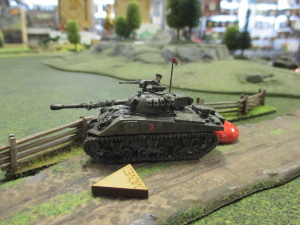 Nahe Merville: Ausgangspunkt: Eine britische Batterie (Akahito) ist nahe Merville stationiert und hat den Befehl zur Verlegung nach Merderet erhalten. Der auf Patrouille befindliche Sgt. Ironliver (6th Airborne, Madix) erhält durch französische Sympathisanten Informationen über den Anmarsch von Deutschen auf die Position der Batterie. Er setzt sich sofort in Bewegung und informiert auch seinen Vorgesetzten mit der Bitte um Unterstützung. Der Wettlauf beginnt…
Die beiden deutschen Kampfgruppen (Ic3m4n, Zauberlehrling) haben den Auftrag erhalten, britische Einheiten nahe Merville aufzuspüren und zu erledigen. Jeder der Kommandanten hat andere Beweggründe für einen erfolgreichen Einsatz, denn einer der beiden ist auf dem Weg zum Ritterkreuz, der andere wegen Erfolglosigkeit vor der Versetzung an die Ostfront.
Vorgaben: Ab Runde 1 bewegen sich die Deutschen mit W6-Einheiten aufs Feld, die 6th Airborne jedoch nur mit drei Shermans als Vortrab. Akahitos Einheit hat den Befehl zum Abmarsch. Jedes der beiden "Teams" hat aufgrund Kompetenzproblemen ständig wechselnde Kommandanten, da jeder – wie gesagt – andere Beweggründe hat, und so muss zu Beginn jeder Runde gewürfelt werden, wer in dieser Runde "das Sagen" hat ("Dashing Commanders").
Das Spielfeld: Ein seichtes Flüsschen mäanderte entlang der deutschen Aufmarschzone durch lichte Wälder, von zwei Brücken überspannt. Von der Ortschaft an der Steinbrücke zog sich die gepflasterte Straße durch die Ebene bis nach Merville. Ein dominantes Feature war ein großer, leicht bewaldeter Hügel nahe Merville, der die Ebene dominierte.
Das Spiel: Das Gelände war aufgebaut und Akahito platzierte die Fog-of-War-Marker – inklusive Dummies, versteht sich – von Merville über den Hügel bis zur Waldstraße. Dann rückten die Deutschen eher zögerlich an, gestört vom an der linken Flanke auftauchenden Sherman-Platoon von Madix. Die Britische Batterie, im Abmarsch begriffen, wurde von den Deutschen unter Beschuss genommen, und Akahito beschloss, den Abmarsch abzubrechen und sich bei Merville zu verteidigen.
Lange Zeit konnten die Deutschen nur auf lange Distanz Feuergefechte ausfechten, die aber auf beiden Seiten eher erfolglos verliefen. Doch dann schafften es die "Knutschkugeln" der 21. Panzerdivision, die im Wald befindlichen Cromwell- und Sherman-Tanks entweder auszuschalten oder zu vertreiben. Die Flanke war offen. Zudem war die britische Verteidigungslinie nach dem Verlust der meisten Geschütze schon sehr ausgedünnt.
In der neunten Spielrunde brach die Moral (Battlerating) der Batterie und sie zog sich endgültig aus dem Kampf zurück. Die Reste der sie deckenden Airborne hielten noch ein weitere Runde stand, bevor sie sich – nach Erledigung ihrer Mission – ebenfalls zurückzogen. Die 21. Panzer stieß zum Schluss noch über die Waldstraße in die tiefe, aber inzwischen leere Flanke der Briten vor, und die Fallschirmjäger bildeten einen Brückenkopf an der Hauptstraße nach Merville.
Die Schlacht war vorbei.
Der Scharfschütze der Fallschirmjäger (Hötzinger) fiel im Kampf, der Kommandant des Cromwell-Tanks (Sergeant Treleaven) wurde angeschossen, jedoch durch die von der Queen erhaltene silberne Tabaksdose gerettet, in welcher die Kugel mit seinem Namen stecken blieb. Ein neuer "Hero of the Empire" war geboren.
Ein schönes Spiel, hat mir als Spielleiter auch sehr gut gefallen, und alle hatten offensichtlich viel Spaß dabei.