Walter Kraus 15. August 2021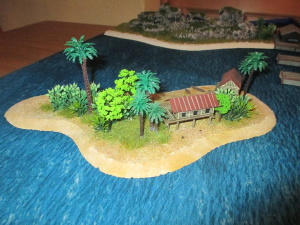 Am Dienstag (10.8.) haben Lord Skrolk (Römer) und meinereiner (Gallier) ein Trainingsspiel für SAGA im Shop absolviert.
Römer: Warlord zu Fuß, 4x Krieger zu Fuß, 1x Krieger beritten, 1x Levy/Wurfspeere.
Gallier: Warlord und 2x Heartguards beritten, 2x Krieger, 1x Ligurer (Mercenary-Krieger), 1x Levy/Slings.
Also jeweils sechs Punkte. Und Ruses.
Vorgaben/Szenario:
Gelände: fix aufgestellt mit Seitenwahl; Victory: Show of Force (Survivalpoints); Deployment: Pincer Attack; Pitched Battle (fünf Runden); Special: Fog
Es war ein wildes Gemetzel, in welchem sich meine Heartguards für das höhere Ziel (Rom besiegen) geopfert haben. Mein Warlord hat dann eine Schussattacke und einen Nahkampf gegen acht berittene Römer überlebt, welche im Gegenzug von durchgedrehten und hochgepimpten Kriegern vernichtet wurden. "Unit of the match" waren die Ligurer, die in mehreren fetten Nahkämpfen allein die römische Levy 4x besiegt haben und so zu den Punkten fesch beigetragen haben. Die Geschichte mit den Ruses ist diesmal auch gut gelaufen, aber sie sind teilweise sehr Spiel-kippend. Den Einsatz derselben sollten beide Spieler definitiv wollen.
Endstand: 28 : 18 für die Gallier
Gerne wieder, war ein feines Spiel, auch gegen eine sehr fesch bemalte Armee. Tom und ich haben dann noch eine Weile über die Regeln und das "Champ of the Champs" gequatscht, und auch Ungereimtheiten im AoH-Buch gefunden, die ich demnächst mit Mirco klären werde.
---
Am Donnerstag am Stammtisch dann Cruel Seas auf dem genialen Spieltisch vom teager40K. In einem fetzigen Spiel machte Lastmanstanding die Amerikaner "great again". Cruel Seas ist auch so ein System von Warlord, dem man viel mehr Beachtung und Spiele schenken sollte. Einige Spieler mit fertigen (oder teilfertigen) Schnellbootflotten hätten wir ja im Comitatus, und der teager40k quillt gerade zu über vor Ideen für weitere Spieltische (wie z. B. Eismeer) und Szenarien.