Walter Kraus 23. März 2022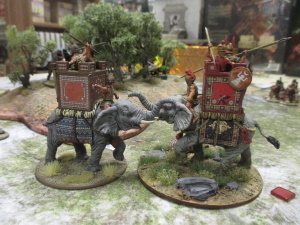 4.3. – Historical Friday:
Ein 4er The Silver Bayonet mit Franzosen (DaMoiti + Muswetyl) gegen Spanier (Ic3m4n + Lord Goas). Metox übernahm die Monster. Die geniale Mission vom Muswetyl plus einiges an Wald davor bildete das Setting für eine heftige Vierer-Bataille mit einigen Wölfen, die von Madix mit viel körperlichem Einsatz gespielt wurden. Sehr viel Potenzial, das Regelwerk!
---
11.3. – SAGA-AoH-Training im Shop
Astatres: Numider: Massinissa, Elefant, Numider-Reiterei, Numider-Steckerlschmeisser-Levy, zweimal Römer-Infanterie (einmal Veteranen, einmal Krieger)
El Cid: Syrakus-Graeculi: Kriegsherr zu Fuß, dreimal Krieger-Phalanx, Levy mit Schleudern und zweimal Söldner: Ligurer und erstmalig Samniten.
Wir haben die Kategorien abwechseln ausgewürfelt:
Gelände: Unebener Boden
Aufstellung: Vorhut
Spieldauer: Unter Druck
Sonderregel: Ein Hauch Nostalgie
Siegbedingungen: Unterwerfung
Na bumm, "ein Hauch Nostalgie", der Kriegsherr generiert zwar zwei Würfel, aber die Söldner keine – und ich hab zwei Söldner-Einheiten dabei. Damit ist die Rolle meines Kriegsherren gleich festgelegt: von hinten dirigieren.
Das Spielfeld: drei Geländestücke, und dann noch mittels Numider-Kriegslist ein steiler Hügel dazu, der durch Massinissa für seine Truppen "normal" ist. Die beiden Wälder stehen an meinen Flanken, die Ruinen und der Hügel bei den Numidern. Fazit: Wir müssen mehr stylisches Gelände basteln, um mehr Auswahl zu haben (sagte ich das nicht schon mal?).
Astatres ist Startspieler, gleich mit allen Würfeln, weil wir nichts finden, das was anderes sagt. Aber er macht nichts, verhält sich defensiv, weil schießen oder angreifen darf er laut Szenario-Mix als Startspieler in Runde Eins eh nicht. Ich versuche mit der Levy ein paar Römer auszuschalten, aber Astatres saved alles, und im Gegenzug erledigt seine Reiterei mit Wurfspeeren meine zu weit aufgerückte Levy. Doch dann werden sie zu frech und scheitern an meinen Samniten, die im Gegenzug von den römischen Veteranen weggeputzt werden, die dann von den Ligurern schwer gebeutelt werden.
Zu Beginn der vierten Runde beendet Astatres als Startspieler dann das Spiel. Ich kann meine Rückrunde noch machen (lt. Szenarioregeln), aber die Verluste nicht mehr aufholen, da die aufgebrezelte Zentrums-Phalanx am Elefanten scheitert, weil mich der Gegner eine Option des Spielplanes zu wenig einsetzen ließ. Es wird ein Sieg von 12 oder 13 zu 7. Direkt eine Verbesserung zum Kampagnenspiel, bei welchem ich gegen ihn relativ untergegangen bin.
Astatres hat es schlau heimgespielt, gegen ihn ist es immer sehr sehr taktisch. Aber meine lästigen Samniten haben ihn dazu veranlasst, sich auch so eine Einheit anzuschaffen. Eigentlich hat bei mir ein Großteil der Phalanx nichts getan, als bedeutungsvoll rumzustehen und den Gegner in Schach zu halten, denn hätte ich zum Ende hin nicht angegriffen, wären auch der Elefant nicht zum Einsatz gekommen, wie seine Levy und die zweiten Römer.
---
18.3. – Historical Friday – The Silver Bayonet:
DaMoiti (Franzosen) vs. MThomas (Briten), wieder im Wald, auf einer Lichtung mit Steinhäusern. Die Franzosen waren die Glücklicheren und gewannen das Spiel, da sie den magischen Ring finden und sicherstellen konnten. Den meisten Spaß im Spiel dürften aber die Goblins gehabt haben.